iPhone for documentation available
iPhone for documentation available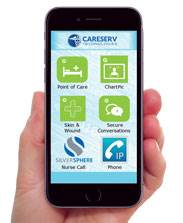 CareServ phone
CareServ Technologies has changed its iPod Touch used for Activities of Daily Living and Skin/Wound bedside documentation to the iPhone 6 Plus.
The 5.5-inch screen makes it easier for users to navigate POC apps, the company said. It also integrates other applications, such as nurse call, reducing the number of devices a caregiver needs to carry.
A 24-month, self-sanitizing antimicrobial treatment on the device is included, along with a waterproof case.
CEO

Jeremy has held many high tech senior management positions in his career over the past twenty-five years. He is currently, CEO of CareServ Technologies & Consulting. Prior to CareServ, Jeremy was VP of Information Technology & Plant Operations for Wellington Healthcare; responsible for all Technology and building upkeep. He joined Wellington Healthcare from Intown Suites, an extended stay hotel chain which purchased Suburban Lodges of America, where he was the Senior Citrix Administrator and Network Administrator. He came to Intown Suites via Buchmann USA where he served as the Director of Information Technology. Jeremy had a successful career at Southern Insurance Underwriters, where he was the Systems Administrator and Lead Help Desk Technician. Before joining Southern Insurance Underwriters, Jeremy held the positions of Quality Assurance Technician with MCI/WorldCom, after leaving the United States Marine Corps in 1999. He attended Hawaii Pacific University in Honolulu, Hawaii; North Metro Technical Institute in Acworth, Georgia; and the Chubb Institute in Alpharetta, Georgia.